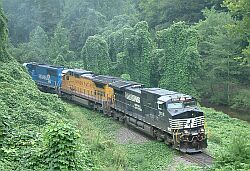 Welcome to the RRPictureArchives.NET contributor site of Douglas Lehman.

I am a signal maintainer for CSX as well as an avid railfan. I enjoy photographing all sorts of railroad related items, as well as many different railroads in my travels. This has become a family hobby, and in addition, I model Conrail and CSX in ho scale. I have traveled far and near, and photographed many railroad related items, and am pleased to share them with you, and hope you get as much enjoyment out of looking at them, as I did photographing them!

You may browse my collection of pictures via the menu located on the left hand side of the page. I hope you enjoy the collection and thanks for stopping by!
Note: This site is best viewed in Internet Explorer 6.0 or above.
Select one of the links from the menu on the left to begin browsing the collection.